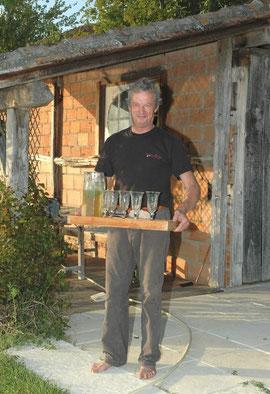 And then there were ... five again.
Let me explain the genesis of this encounter: the Blog des 5 du Vins went through a « Wind and Wuthering » episode, prior to regaining full strength. Our man Cobbold was the technical joker substitute during that mercato and accepted joining, on top of his own blog-writing.
Cobbold, David Cobbold. You can shake him, but he's no-one to stir.
He's got a complicated biography, just like most people I happen to find interesting. Let's summarize by saying he started being born in a very distinguished English family, subsequently studied art and litterature, only to be fired as he had this fine arts project rejected by the academical authorities. The main subject of his masterpiece would have involved customizing a ... Harley-Davidson (of a bitch, understandably). Shocking indeed, isn't it?
He finally ended up crossing the Channel and settled in France at the beginning of the seventies. His interests, beside anything arty, also include motorcycling, rugby, cricket and ... WINE.
I spent a grand total of 300 French Francs at "Les Caves de la Madeleine" during the year I lived in Paris (1986) and Steven Spurrier remembered to keep in touch with such a major customer of his. He commissioned one of his best collaborators to keep an eye on me and so it came David first heard of Léon. His second opportunity took place when Veuve Cliquot – he worked with them as well – wanted me dead, in line with most major champagne producers. But Paul Vranken insisted on doing the job himself, so he had to let go.
For obscure reasons, he took my hint when I planned a trip to the marches of Gascony and kind of invited me to visit him on his estate, complete with barn, pig-shed, swimming-pool and accommodations for travellers, whatever their ranking.
You will find an at-length report on this HERE.