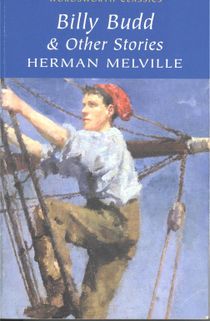 "Call me Luc. Some years ago
- never mind how long precisely -
having little or no money in my purse, and nothing particular to interest me on shore, I thought I would visit the « Phare des baleines », Isle of Ré's lighthouse, and its bookshop in order
to read about a little and
see the literary part of the world ...."
I thus ran across a most marvellous little volume in Wordsworth Classics : short stories by Herman Melville.
So far, the whole of Budd's family I was acquainted with was Jim, courtesy of
"le blog des 5 du vin". I had no idea he was kin to such illustrious ancestry, albeit an ill-fated one.
Imagine: "He was strength and beauty. Tales of his prowess were recited. Ashore he was the champion, afloat the spokeman; on every suitable occasion always foremost. Close-reefing topsails in a gale, there he was, astride the weather yard-arm-end, foot in "stirrup", both hands tugging at the "earring" as at a briddle, in very much the attitude of young Alexander curbing the fiery Bucephalus ...." (I quote).
One could easily imagine such description applying to our Jim, the truth-seeker in anything 1855.com-ish, the evil-prosecutor in the Campogate plot.
And further: "So with sanity and insanity. In pronounced cases there is no question about them. But in some cases, in various degrees supposedly less pronounced, to draw the line of demarcation few will undertake, though for a fee some professional experts will. There is nothing nameable but that some men will undertake to do for pay. In other words, there are instances where it is next to impossible to determine whether a man is sane or beginning to be otherwise ..." (I quote again).
So it goes as far as his shirts are concerned. I go for "border-line" personality if I am to express my most sincere opinion.
By the way, "Billy Budd, the Handsome Sailor" makes for fascinating reading.
HIGHLY recommended by the maker of Domaine de la Coume Majou wines !