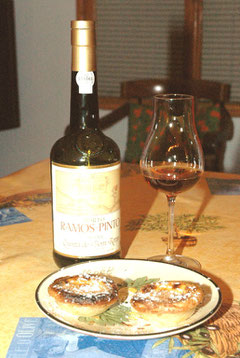 Most of us wine-bloggers have at least heard of Jim Budd.
He's a personal friend of
Emeric Sauty de Chalon
(of 1855.com fame) and of
"Bobby" Parker.
The man is well travelled, and clearly enjoys improving his records still. For that reason, and maybe a few others, he's presently spending his time and money in the Portuguese capital, one of my preferred cities.
Not content with that, he mocks me by swallowing huge quantities of one of the world's most delicious dishes: pastéis de nata ! Even my diabetologist says there's no harm in liking them .... from a distance.
By way of revenge, I forwarded him the picture illustrating this contribution, taken yesterday evening in Corneilla - I swear by Marques de Pombal and all the Jesuits I know !
On the other hand, I can't help being fond of him – if only he would reconsider politics in a serious manner – and found some lyrics to a song he might like.
Here it comes:
 "He doesn't drink tea he takes Port, my dear
Likes his bica very strong right here
And you can hear his accent when he chats
He's an Englishman in Lisboa

See him walking down the Chiado
A sipping glass round his neck
Takes it everywhere he'll go    
He's an Englishman in Lisboa


He's "This Blogger", he's a legal alien
He's an Englishman in Lisboa
He's an alien, a legal alien
He's an Englishman in Lisboa

If, "Manners maketh man" as a nutter said
Then he's the moustache of the day
It takes a Budd to suffer arrogance and scorn
And be himself no matter what they say

He's "This Blogger", he's a legal alien
He's an Englishman in Lisboa
He's an alien, a legal alien
He's an Englishman in Lisboa

Campogate and 1855.com can lead to notoriety
He could end up as one among the few
Hairiness and side wiskers are rare in this society
But this grey man won't stand in the queue

Takes more than drinking gin to make a man
Takes more than a license for a rum
Insult your enemies, rebuke them when you can
A gentleman will puke but not in front of Mum

If, "Manners maketh man" as a nutter said
Then he's the moustache of the day
It takes a Budd to suffer arrogance and scorn
Be himself no matter what they say


He's "This Blogger", he's a legal alien
He's an Englishman in Lisboa
He's an alien, a legal alien
He's an Englishman in Lisboa ...."
ABRAÇO