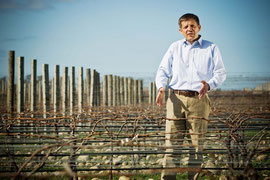 I had planned to give a short account of my encounter with Arnaud Bourgeois, whom I met in Ostend last week and extensively talked to during the "repas vigneron"
Koen Thenaers had set up in Bruges in our honour : we sat next to one another.
I think this man played a game of cat and mouse with me
and I thoroughly enjoyed it. He almost got me on several occasions,
but I ended up alive and very much amused.
And now, I discover Jim Budd posts on him. See HERE.
Thus, here I go myself, without further delay.
Let me explain:
Sancerre – in its white version, that is – has always been my Mum's favorite wine. But what she liked was the Old Time stuff, with lots of varietal flavours, the pungent (malic) acidity and the true "Katzenpis" odour. Not really my type.
Recently, I had her drinking Vacheron's, Château de Sancerre's, Monts-Damnés', Mellot La Moussière's versions and so on, and she kind of less liked them ...
only to rediscover the virtues of the crispier types of Chablis.
"An' the times, they are 'a changing ...."
I had no leisure to go through an extensive tasting of all the Sancerres and Pouilllys this excellent estate has to show: Arnaud Bourgeois was indeed present in order to attend to his customers and I was standing there with the purpose of getting brand new ones, an even harder endeavour. Without exaggerated pride, I may well say I know their wines pretty well. Indeed, I was the unworthy – but dedicated – successor of the sorely missed Robert Goffard at the CERIA lectures in Brussels and this outstanding character used to be Maison Bourgeois' importer for Belgium. Therefore, I had plenty of opportunities to taste them. Ever since then, I always found them excellent, on repeated occasions.
As for his views, surely for the most part identical to those of his siblings – as this house is a family company, albeit a large one – on viticulture, quality factors, the New Zealand topic, red grapes in the Sancerre area and so on .... they all make a lot of sense to me. But, whereas I am outspoken, bombastic, pedantic and somehow arrogant, M. Bourgeois is discrete, astute, in a way even self-conscious. On every subject, he seemed to question my views with a mixture of curiosity and humor. We also talked about people in his area, be they famous or more humble, as for instance the leading personalities on the Pouilly Fumé appellation, or your basic rugby-playing chappies in Sancerre. Yes, you may not know this, but a whole generation of them, when attending the regional secundary school, had a gym teacher who actually played in Bourges' first team, and contaminated them with the oval virus.
Finally, he graciously insisted on tasting my production
– fortunately, I had no white stuff to show him –
and I think he liked the wines, especially the "Loute de Coume Majou", the old carignan wine. At least, he said so. He also asked a lot of questions about the particulars of my modest estate.
When he left - heading for the airport – we shook hands.
He invited me to pay him a visit in Chavignol and said :
"Nice project you have", probably meaning I was
a fool and a dreamer, but not a dangerous one.