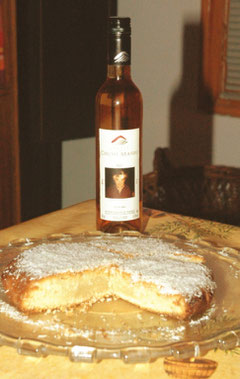 Isobel is no "Gordon's wife"...
As a matter of fact,
she even is a thoroughbred Stuart,
born and reared in Edimb'ro.
She is mother to my friend Alison,
and a very good pastry cook indeed.
Not for nothing does she
originate from Midlothian!
Before we left the
"Chèvrerie des Chènes",
 yesterday noon, she made us familiar and indeed very well acquainted
- as far as I am concerned -
with a specialty of hers:
"Lemon Drizzle Cake".
Not later than an hour ago, Christine applied most of her principles to a recipe which proved very successful: look at the picture ! It is a cake – this time without any butter nor eggs as we don't have any left – through which you drill or puncture small "holes" in order to be able to "soak" it with a mixture of lemon juice and cane sugar syrup, hence the "drizzle".
In our case, I even advocated adding some home-made lemoncello.
When that is completed, you spread ground coconut on top.
And there you go.
Well, almost: to make things even more enjoyable,
a wee "Cruels de Coume Majou" found its way to our glasses:  
Sláinte !