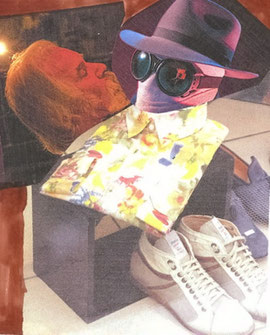 Walking the streets
of Montauban
last week Saturday,
my eyes fell upon this strange « appearance ». I was struck by a « Unbehagen-like » feeling and decided to investigate the matter in some more detail.
The police were no help. If you enquire about private persons, you should end up either being rebuked – which happened – or else having to pay a fee, which I resented doing. In this, the strong arm of the law resembles pictures copyright: no pay no clearance.
I did some "porte-à porte" work, but my door to door efforts were to no avail either. Nobody had seen either our man or ... the invisible man. The latter was quite understandable, mind you.
I then telephoned all the important people in the wine microsphere: had they spotted our man ? No, Hervé had no idea. David, although he is almost a neighbour to this Tarn & Garonne city, could not help me either. Michel Smith spilled some carignan on his jersey and uttered he had not run across him for a while. Jay Miller swore "he had never heard of this blogger" and only a Emeric Sauty de Chalon expressed his wish to cooperate. He told me: "J'ai mis deux crapules de première force à ses trousses, des anciens du SAC, potes à ma famille, qui bossent avec la Lepen à leurs moments perdus. On va le trouver bientôt et lui faire bouffer ses c......s ». For the ease of comprehension, I translate his testimony for you into politically correct English: "I asked a few jolly good fellows of mine, trustworthy gentlemen with impeccable track records, who served with honour in the French armed forces and command every respect, to try and politely get in touch with him. We'll ask him a few questions and pay him a delectable meal he'll remember forever afterwards".
So, there's some hope I will eventually get some clues.
Which face corresponds to my snapshot ?
Why did I get this peculiar sensation ?
Well, to cut a long story ... shirt, whose garment is that ?