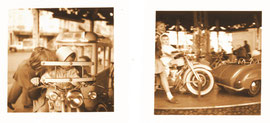 I already told you about
David Cobbold.
Unlike Copperfield, he is a keen motorcycle rider and often posts about his hobby.
Recently, he gave me a present of some flashy bike snapshots. See here.
By means of retaliation, here YOU will discover another aspect of my oh so rich personality.
Actually I toured Scotland in 1983 on a Japanese V-twin myself, from Carlisle to John O'Groats and from Scottish Corner to Durness (in excess of 3.000 miles) and did the same in Morocco, anno 1985, driving as far as Marrakech before setting the valves and the distribution chain on a public square in front of our hotel, surrounded by a hundred or so local kids, full of admiration – kids are prone to marvel at things ....
Scotland was just before Patricia, my ex-wife, became pregnant of Johan
(the "Jo" part of Cuvée Jolo) while Morocco was thereafter.
You have to consider all kinds of throbbings and poundings ... when you contemplate biking and deliveries !
But, as you will discover on my illustration, I got the biking virus much earlier in life.
The pictures you see here must have been taken in 1959 or 1960, most probably at the "Place Ste Croix" as it then was called, now "Place Eugène Flagey".
We used to have this big Kermis in front of the buildings where the Belgian radio and television broadcasting took place at the time. Besides molenkes
(= Mary-go-round), we also loved the smoutebollen, those delicious fritters glossy from the dripping oil ...
Another possible location was "Place Jourdan", where you still discover one of Brussels' most visited touristic attraction: Fritkot Antoine, the world-famous Belgian chips stall. The amusement park used to be somewhat smaller, but was located closer to where we lived.
The girl on the picture is most probably a Betty Deprez in her childhood. Her mother took care of my brother Thierry till he went to school and cooked for the family. Me, as I already told you, lived mostly at my grandmother's nearby. There was not overmuch time to bring up kids for a medical couple, in those days ....
" ...
Fast food, living nostalgia
Humble pie or bitter fruit
I am a D.J., I am what I play
Can't turn around no, can't turn around no, ooh ...."