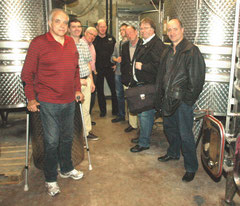 Yesterday night, we came home late after two long days of great contacts in the beautiful area of Lozère, the fifth department of the region Languedoc-Roussillon, and also the least densily crowded in France.
"Fine, say you,
you deserve some rest."
Forget about that. Christine left before 8 a.m. to clients in the Montpellier area and ... she demands her especially made espresso prior to departure. So, out of feathers it was before daylight. Indeed, I was asked by our local promotion organisation, the "Conseil Interprofessionnel", to present a few wines to a panel of Danish and German wine-merchants on a scouting trip in the Roussillon. Most of them are rather large scale companies importing popular wines from many areas, amongst which southern France, and would clearly not be commercially interested in my small-scale hand-crafted production, but others import wines such as Castello di Ama, probably my favorite Chianti, and there I stand with an opportunity. Still, even with the others, I always insist on offering the best possible image of the Agly valley and on leaving them with a favorable impression, be they potential clients or not.
The gentlemen you spot on the picture all accompanied Eric Aracil (CIVR): Finn Rasten, Nicolai Larsen and Finn Hetebrugge from Denmark, and their German colleagues Karl-Wilhelm Schulze, Ulrich Hintzen, Lothar Scholze and Werner Hillebrand.
So, in order to satisfy everyone, I decided to show them the three main red cultivars as single varietal wines: "La syrah de Coume Majou" (100 % syrah), "le Rouge de Coume Majou" (100 % grenache, sold locally to typical restaurants in order to render obselete the hated "pichet") and my all-favourite old carignan wine: "La Loute de Coume Majou" (100% old carignan, mostly 1922). They were well accepted.
Then we moved on to the classical "Roussillon blend", my main production: "La Cuvée Majou 2007". I think I was able to convince them my motto is correct: in the Agly valley, where all of my grapes grow, some producers are able to produce bottles in the same league as the very best Châteauneuf-du-Pape wines, only with an extra bit of added finesse and elegance.
Finally, we tasted "Le Grenat de Coume Majou", a "Rivesaltes grenat" fortified wine with lower alcohol (16,5 vol %) and lower residual sugar (85 gr/l) than most,
making it a bit more of a "wine" and a bit less of a "liquor".
PROSIT UND SKOLL !