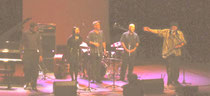 We had booked three seats at Perpignan's theater yesterday evening, to attend the performance of
"Sound Prints",
featuring none less than Joe Lovano himself in a quintet setting.
In a way, it was "Belgian music" as Mr. Lovano plays instruments tuned by the impeccable François Louis, inhabitant of Ciplet. This charming ex-motorcycle mechanic, turned into a world-famous music instruments designer, also makes handcrafted mouthpieces and ligatures: Joe is one of his most prestigious clients, as well as a fellow pasta-down-gulper of his.
I was lucky enough to be treated to a generous helping myself at François' place once .... and we drank Coume Majou goodies on the occasion.
But the music was also extensively Yankee: the band revisited some of Wayne Shorter's most renowned compositions, partially rewritten and arranged with their author !
When I say, "the band", you should read Joey Baron (whom I had already seen performing with Bill Frisell for instance, in the absence of Paul Motian), who was in top olympic condition, hitting the skins with subtlety most of the time, and then again with a magnificent violence at other moments. I think he was the driving energy of the evening.
You should include Dave Douglas: he was co-leader for the occasion and his alternate duets with Joe have been a delight to the ear: sometimes they played at unisson, sometimes they gave us a remake of "Battle of the tenors" except there was only one woodwind here, but the spirit was there.
Less well-known – to me at least – were very romantic Lawrence Field, who kept the melodic line alive on the Steinway amidst all this fury and chromatic madness, and charming Linda Oh. Her bass almost sounded like a mandolin – I exagerate – when she wanted to. Mamma mia, I did not know Canal Street had such strong connections ! But it is true that's the very place where Chinatown and Little Italy meet ....
Finally, you had Joe Lovano himself. The Ohio man always impresses me with the combination of brio (Charles Lloyd-like I think) and of power (level with Coltrane) he develops. Yesterday, he played almost "sotto voce", just intruding now and again, so to speak. A sheer marvel. And his t.s. sounded absolutely crystal clear in the moderate temperature we enjoyed in Perpignan last night.
Lei ritorna daccapo, Joseph Salvatore ;
come back again, we love you !