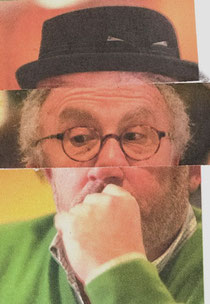 I had the opportunity to run across
an abridged version
of three important wine-bloggers.
But I still owe the author
of their portrait
–       the full-size version, that is  –
his royalties under the terms
of copyright laws.
If he claims them,
as he is entitled to do,
I will be forced to withdraw
this issue from my posts.
If that is not the case, please meet their excellencies "M. le Rapport Berthomeau himself", "Vincent Pousson of Campogate fame" and my dear friend and fellow adopted Roussillon-man "Michel le Forgeron Smith", a.k.a Le Ténébreux.
Read all about them HERE.
 http://jimsloire.blogspot.fr/2013/02/2013-salon-des-vins-de-loire-three.html