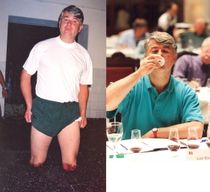 On June 12th1999 an event took place which had a considerable impact
on my taste buds:
the "Vintages of the Century" tasting
at the Palácio da Bolsa in Porto.
I'm a lover of port wine, any port wine of quality. I have always been. I was reared – not educated - by a grand-mother who had a strong liking for good wine and food. She brought me in touch with all that and was also seminal in me developing a sweet tooth and a belly first, diabetes and gout afterwards. Still, she let me down on one point: she insisted on fixing "Porto Flip" or "Porto Flup' cocktails for me. This consisted of good quality ruby port mixed with a blender-pulverized egg, complete with its shell, and some sugar. Energizing but poor taste. Yet, I loved it !
My interest in anything porty increased when I was introduced to Luísa Cálem first, and Dirk van der Niepoort thereafter. I became, in a way and though I say so myself, a real connoisseur in fortified wines altogether.
When I was offered a ticket to join the happy few who could participate to the tasting of more than 100 vintage ports covering most of the 20th century, I was delighted. I managed to taste about 60 of them with due attention and concentration, then gave up, exhausted and slightly drunk, in spite of my dedicated spitting. But the mucosae (tongue and gums) let go spirit through the same way the "Ligne Maginot" allowed passage of the German during WWII.
Proefschrift's editor was stone drunk after a few hours and kept playing stupid tricks on everyone, for example. Even Mr. Suckling got mad in the end, quarreling fellow-tasters 'cause they were "too noisy" – poor thing !
The lovely official snapshot of me exposes my fresh face first thing in the morning. Incidently, the watch I wear is there no more : a – cheap – Tissot exhibiting moonphases, quartz-driven of course, that gave me a lot of pleasure till it was laundered in a trousers' pocket, then inspected and cleaned by an authorized dealer only to definitively give up after a few weeks.
I take advantage of this occasion to inform you my good friend Yves, often appearing in these columns, will soon be the happy owner of a decent mechanical moonphase Longines watch, as a result of joined friendly efforts for his 60th birthday. I must add my personal participation was modest indeed ... due to circumstances. Have you noticed I develop a Ian Fleming or Jef Geeraerts habit, mentioning trade marks for everyday life items I describe ? Snobbery no doubt.
The second picture is probably more interesting. I think it was taken on the same journey, but finds me treading the grapes at Quinta do Passadouro (I reckon), or was it Napoles, I cannot remember ? It was late at night and I had been treated to an enchanting evening by Dirk Niepoort, Richard Mayson joining in. We were gayly inebriated, but still pretty much adequate when we headed for the lagares. Dirk talked about women, Richard about himself and I ... don't remember what the f.... I was blathering about. We kept moving around in the fermenting must for the best part of two hours, talking sense and nonsense. The watch you notice on someone's left arm must be Dirk's. Don't ask me for any specifications!
It's not even Rock'n Roll, but I like it !