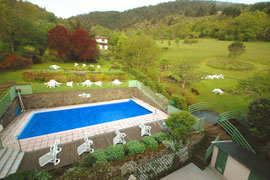 If you're still in doubt concerning your stay
in the Causse-area
this Summer,
stop searching :
Looking at my picture, you get a clear view of the lovely garden on the mountainside. It is not quite 7 am, the birds are singing and the furniture is still upside-down to protect it from the morning dew. At once, you get the message : everything is clean and well kept, everything looks nice.
We were lucky enough to hold a tasting of our wines last year, and the chef at once ordered some of it for his personal cellar : the house's wine-list had unfortunately just been completed. But earlier this year, the landlady placed a firm order for the restaurant itself.
In the meantime, I had scrutinized the web to try and understand how Christine had managed to pick up such an exquisiste address, in such a remote place and amongst 20 other candidates. I found a host of very favorable opinions and a few ones at odd with this trend: "too clean", "overattentive landlady", "excessive friendliness" .... The French can be a strange bunch of people !
Meyrueis stands in the middle of .... a no-man's land situated between the calcarous "Causse area" (Cause Méjean, Causse Noir ...) which are actually the eastern limits of the Languedoc and the true Cévennes, the mountains where Provence is about to start, on the outskirts of the Massif Central. It is the ideal place to begin your hicking or motoring holiday in this paradise on earth ... during Summertime, that is. Mont Aigoual is runner up to Mont Lozère for the title of highest summit in the Cévennes, with its 1565 m of elevation, or 5135 ft. and the French meteorological authority has manned an observatory on top of it, 365 days a year.
We were intent on completing an entire delivery round starting along the Aubrac, then heading north to the Haute-Loire, finishing in the Gard and even as far as Avignon. Meyrueis stood right in the middle, as the craw flies. So, having to deliver wines there as well, we opted for an overnight stay, enabling us to indulge in a full meal with adequate quantities of beverages to go with it. And so we did.
My favorite dish must have been a delicately roasted breast of tender duckling, accompanied by various seasonal veg, all cooked to the perfection and full of flavour. The sauce – a jus court actually – was additionally seasoned with aromatic herbs (sage) and exotic spices. My beloved endocrinologist does not like me to describe the deserts but this time I cannot resist: lovely fruity blackcurrant sherbet, candied plums and a kind of Pierrot's (Little Pete, Pedrolino) pointed hood made of biscuit and cinnamon powder. Not to be resisted and why should we ?
As for the wine, we opted for a lovely Saint-Chinian, strong, perfumed and with good tannic finish.
To end my narration with a hunting story,
a party of British cyclists just arrived
after their trip of the day, in their attempt
to cover the journey between the British Channel
and the Rhône valley ... cycling, without any additional
power source but their own legs. Well done, all of them.
Oh yes, they were having a – Belgian –
beer in the entrance hall.