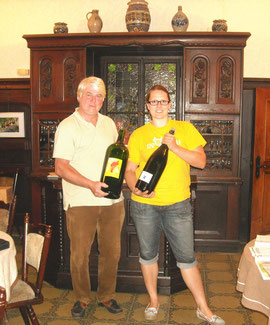 How Cecilia
allegedly took over
from Peter
at ... Toni's.
Ich könnte diese Beschreibung auf deutsch geschrieben haben. Aber mein geschriebenes deutsch ist wirklich zu pathetisch um etwas interessantes hervor zu bringen.
Et j'aurais pu vous faire ce billet en français, comme Joe Dassin, mais je souhaitais que notre hôtesse pût le lire avec facilité.
So English it will be.
I first heard about Bacharach's Hahnenhof in the eighties, going through Stuart Pigott's legendary "Life after Lfm" opus. At that time, no-one considered Mittelrhein a prominent wine-producing region and the Lorelei could just weep and digest her sorrow. Me, a far cry from being Heinrich Heine, paid Peter Jost a visit in 1990, and the anecdote is worth telling.
I had then just been hired by the German pharmaceutic giant Bayer AG to head their medical department in the Brussels branch and spent a few days at the Leverkusen location, in the vicinity of Cologne, in order to complete my "Ausbildung" (= training). We had a free afternoon, weather was appalling and I took a colleague with me on a rainy journey along the Rhine axis. We had a memorable tasting, rounding it up with a large number of "Auslese"-quality – and even higher – wines. We must have had at least a score of samples and we were both merry and enthusiastic. The very same evening, we had dinner at a good restaurant in the Salzgasse, Im Walfisch, which swallowed all of the "food allocation" we had been granted for the entire duration of our stay. It was pouring down on the Dom when we left but we had enjoyed excellent dishes and had a happy heart.
Next morning, I offered our instructor a bottle of this "Rheingold" and a vivid description of our last meal. The poor chap was charming but very much your typical middle-range Bayer employee. There is no closer thing to a Staatsamt (Public Service) than this company where the "big bosses" enjoy lots of privileges and forced respect, while the vulgus greedily counts its dimes and struggles narrow-mindedly its way up the hierarchy till ... retirement survenes. He was delighted with the bottle – I had soon discovered upon meeting him he was a keen wine amateur – but encouraged us not to speak about the gastronomic meal, as it "would not make a good impression"! I suppose he meant by this that a banal new-comer as I – and not a true germanic individual at that – had no right to such royal treatment.
The next time I made it to Bacharach must have been somewhere in 1992, after an earlier missed appointment due to stormy weather and cataclysmic showers on the entire area which enormously delayed me. I still keep a single bottle of 1989er Bacharacher Hahn Riesling Auslese somewhere. Must have been "Goldkapsel" because its twin sisters were outstanding, in as far as my memory doesn't fail me.
Inbetween, lots and lots of things happened – amongst other things, I became a wine-maker myself, which is already well enough – and 20 years elapsed.
As you will imagine, I haven't got too much brass in my pocket for the moment for buying wine, and my "stock" of dry riesling is running dry after almost 9 years spent in the sunny south. On the other hand, I still have plenty of the sweeter versions, as one tends to drink more dry wines, and sooner too. So, for once, I decided to taste the dry wines only.
Peter Jost greeted us, and soon made it clear his daughter Cecilia, who became a Geisenheim oenologist in 2009, has taken over now and she would guide us through the range. She spent some time at Pichler's in the Wachau area, and in
N-Z as well before returning home. For the last two years, she has had a clear deal with her dad. There is always music to be heard in the wine-cellar during
wine-making season, as her mobile telephone and other devices are programmed to that effect. Every time she plays a type of music he doesn't like (Metallica for instance), he's not welcome and should avoid interfering. Whenever Johnny Cash is on, he may come in. Quite an elegant way to solve the kids-parents relationship in business, or any other more Freudian issues.
We had a splendid tasting of very classy wines. It is obvious 2011 and 2012 are totally opposite vintages: the former is lusciously rich and opulent in style, even the dry wines, whereas the latter – slightly more dilute – is all elegance and subtlety. At Hahnenhof, they almost single-handedly possess the Hahn vineyard, a monopoly as such, and another 10 ha or so around the village, as well as 5 ha in Walluf, on the Rheingau, some 50 km further on the river.
We finally opted for the "simple" 2012er Bacharacher Riesling trocken Kabinett with very typical lemony riesling features, a straightforward acidity and the elegance of schist – all these vineyards exhibit slaty soils.
We also liked the 2011er "Alte Reben" Riesling, just a QbA, but coming from the estate's oldest vines in Rheingau, planted at the time of the Flurbereinigung.
Another splendid wine was the 2011er Bacharacher Hahn Riesling trocken, declared as a Spätlese but in fact of higher Prädikat with its 13,5 vol %.
And of course, the house's 2011er Großes Gewächs, coming from the Hahn vineyard, of "downgraded" Beerenauslese level but fermented to around 7-8 gram of residual sugar.
As is becoming increasingly common in Germany, all the wines Cecilia bottles are obturated by a screw-cap, at which I can only loudly applause. They have now over 10 years of experience with that system on the estate, even possessing similar bottles but closed with natural cork to compare with. There is no doubt the hermetic closure offers better keeping records, preserving all the essential qualities of their wines.
All that is left to me is to congratulate Miss Jost
on the quality of her production
and invite her to pay us a visit sometime.