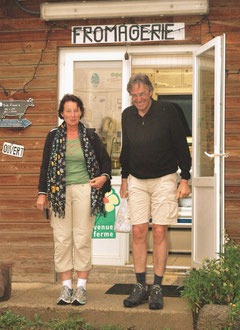 The owners of the
"Fromagerie Cal Guillemet"
in Saillagouse
shouldn't be worried.
The presence of this highly specialized couple of visitors holds no relationship whatsoever with any kind of hygienic surveillance. Very much to the contrary.
Anna Lönnroth is indeed deputy head of a European Commission infectious disease unit and hilarious Herman Goossens happens to be professor of microbiology at the University of Antwerp, as well as an influential expert and adviser with the Belgian Public Health authorities, but they are presently visiting the Catalan and Languedocian seaside and occasionally the higher parts of Cerdagne as well, scouting wineries and all "good food opportunities".
After a very picturesque hike in the neighbourhood of the border milestones which signal the frontier between France and Spain along this part of the Pyrenees, that had to be shortened because of impending rain showers and thunderstorm, they called on the local producer of excellent cured ham as well as on the cheese-making facility of this mountain-side village.
Some two hours later, the journey back to Corneilla having been a wet one, it is Alsacian goodies (riesling and pinot gris) which served to initiate and close down the festivities, but in-between quite a significant sampling of Coume Majou's production went through intensive scrutiny throughout the meal.
Apart from some other wines I frequently report about (our white and rosé, Eglise de Coume Majou 2007, Cuvée Majou 2008 and indeed our present little darling starlet bottle, La Loute de Coume Majou 2011), I will focus on two more recent items:
. Le Roc Blanc 2011: this blend of grenache and carignan originating from an extremely hot vineyard site at the very top of the hills above Estagel was bottled in Spring 2012. It made its world's debut for my mother's birthday dinner in August last year and we are very pleased with its present evolution. The colour is still very intense and dark, but the nose already expresses the typical "Estagel features" which I also make use of to give part of the typicity to the Cuvée Majou of the estate: it is smoked, tarry, and packed with blackcurrant and plum overtones. The mouth is both full and complex, with a lot of structure but without harshness.
The finish is very long.
. Maury Cuvée Jolo 2011, Quintessence: first time we opened a bottle "in public" – but friends can hardly count as "an audience" – and this fortified wine presented pretty well. It has some more sugar than usually – still only 100 gr/litre – but the balance with its alcohol and its splendid tannic structure is already quite satisfactory. We greatly enjoyed it as a fitting match to a fresh peach crumble, direct from the oven, courtesy of Christine.
Come again, Anna and Herman,
and have mercy on my failing
aldehydes detoxification system :
I'm below the usual functioning standards
today but thoroughly enjoyed it yesterday.