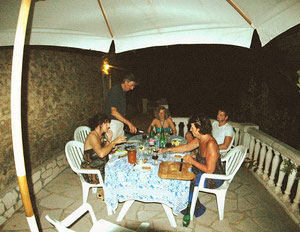 Yesterday evening, Hérault it was
that homed
our evening meal,
courtesy of
Herman and Anna.
Meantime, you all know who Herman and Anna actually are. But it is once more a hunting story I want to make public today for an ever increasingly curious audience. They're dying to hear my tale.
We had eaten delicious "cèbes" (onions) from Lézignan at François Bassas's (see HERE) and Christine and I had accordingly planned our route to go through the village of Lézignan-la-Cèbe, in order to be able to scout the place. As a consequence, we approached Neffiès from the "wrong" side of the one-way road and my she-driver was not all too pleased. While she unloaded her gear, I endeavoured to turn around the car and properly park it in front of the metal entrance door. I hadn't even set foot on the corridor when a face – well known to me – greeted me cheerfully : "Hello, Luc, some time not seen. D'you remember
me ?"
Goodness gracious, I would lie if I told you I still knew his name, but no mistake there stood in front of me a young man who had collected me at the Charleroi airport, some 3 or 4 years ago, on the occasion of the yearly tasting at Hotel les Eleveurs, in Halle (Belgium). He was an occasional collaborator of the dining-room staff at this excellent restaurant and Andy De Brouwer, the manager, had sent him to meet me and pick me up upon my late arrival, all commuting busses gone.
What a small world indeed. But what the hell was he doing here, quicking around in this lovely Mediterranean village in mid-Summer, at the place where one of my good friends spent his holiday? Nothing can be simpler: he's father to Herman's grand-child! The little chap was crawling around on the terrace when we arrived, still within the angle of view of a charming young woman who happens to be ... the kid's mother. So I'm sure you came to the right conclusion: she is Herman's daughter. Clever, clever.
Even Anna, who is not the boy's genetic grandmother but nevertheless Herman's beloved lady-friend, took a while to assimilate all the elements of this odd situation. As of Christine, who is neither the mother of my sons nor of my daughter, but separately gave birth to two adult girls of her own, for which I cannot claim any parenthood, she's still uncertain today about who is who.
It nevertheless made for a very enjoyable evening, with friendly people, a lot of gossip, good food and booze (Christine to drive on the journey home) and not one mosquito to spot in the entire evening: thank you, there above our heads, to you bats and swifts of all kinds.
And thank you to all the human beings,
inviting authorities and attendants altogether,
for these splendid hours of shared happiness.
Be blessed for ever and ever!