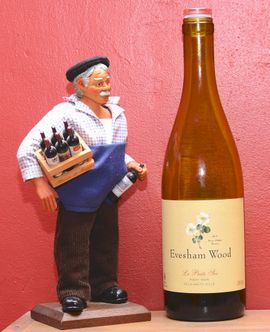 Willamette Valley ...
ever heard of ?
My little story begins with a visit. Michel Smith is in very friendly terms with a Russell Rainey. So what ?
It all dates back to 1986 : Russ and Mary Rayney start up a new vineyard in Oregon.
- "In Oregon ?" say you.
- "Yes", and only the MW's amongst European wine enthusiasts will know wine is grown up there, let alone where to find the place.
Apart for the State of Washington, Oregon is USA's most northernly region on the Pacific coast. And wine has been made there since the territory was formally created, in the early 1840's, although "industrial" wine only started in 1960. So, quite a tradition in fact.
Individual areas have been demarcated, such as Yamhill County, Walla Walla Valley, Snake River Valley, Rogue Valley ... to just name a few. The Willamette area is arguably the best suited for pinot noir. And just there it is that Russ and wife settled to initiate their "Le Puits Sec" ("en français dans le texte") venture, with just 8 acres (ca. 6 ha) of vines.
Over the years, they extended their area under grapes by just a little bit more and did stick to very low yields, a rather natural approach to wine-making and "French-looking" types of wine, having developed a kind of admiration for people like Henri Jayer, of Vosne-Romanée fame.
Eventually, they sold the business to Erin and Jordan Nuccio in 2010, intending to retire – in  a way – and enjoy their house in the South of France. Russ still works part-time as a wine-consultant and imports some goodies to the US.
Michel Smith, who had actually never visited my estate even though we had seen each other a few times, either in Perpignan where he lives or thereabout, presented him to me last Summer. We paid tribute to the old lady from 1922, driving all the way to the top of alt de Coume Majou, and then tasting all the wines I have which include some of its juice : Cuvée du Casot 2006, Cuvée du Casot 2007 and La Loute 2007, La Loute 2008, Cuvé du Casot 2009, La Loute 2010, La Loute 2011 and, finally, La Loute 2012 from the steel tank (now bottled). You will find his report on the event here.
And I was given a present of a bottle of Evesham Wood, Le Puits Sec pinot noir, 2008, from the district of Eola-Amity Hills. We drank it yesterday, as a perfect companion to a gently roasted farm chicken with splendid lentils from le Puy-en-Velay. Full stop.
As ever, I had the advantage of having seen the label, which makes guessing a wine so much easier, whereas Christine tasted it in a totally blind way. After some nonsense which I laughingly corrected, she decided it was pinot noir indeed. Well done, girl.
Rather ruby in colour, but not pale nor oxidized, it followed suit with a well developed nose: some blackcurrant and raspberries, slightly smoked and oaked, and – I thought – maybe the faintest indication of "cork" (?). The mouth was smooth and longlasting, but not overpowerful. All over, it kept a good acidic touch to balance it. I left a third of the bottle for the next day: it came unchanged, still with its very discrete "corky" side.
All in all, a very pleasant experience.
Thank you, Russ, and come again !
PS: the elegant label displays what appears to be a classical Spring encounter of
      the area: the Pacific Dogwood flower (Cornus nutallii).