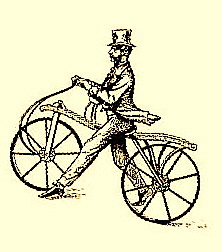 Jim Budd is
a "strange customer".
He mostly speaks his mind, albeit in an « English » way. He is stubborn. He takes very pretty pictures, in all seasons and often from an unexpected angle. He is humane and very concerned and I think he is a generous man.
This being said, I think we would find it difficult to spend a long time together: he doesnt'like being contradicted, reacts calmly but with a fierce determination and possesses his own codes. To me, he is your archetypical Englishman, with the "political correctness" and also the collected humor that befits his kind.
As far as wine is concerned, he goes for roughly the same values as I, even though personal preference may sometimes differ: you don't always share all the same taste .... buds. He doesn't speak nonsense, a rare occurence in a journalist, and he's mostly well informed. He hates cheating and cheats, a feature in common with me.
Our main bone of contention is "cycling", although I do not see how a bone can become an apple (pomme de discorde in the French tongue). If I think twice, Eve was born from a man's rib-bone and she ate the apple, so maybe there is a link after all, but a remote one.
He thinks professional bikers are modern heroes, a view which I partly share, seeing how they suffer and what they endure. But I shout loud and clear, as is plain for everyone to see, that they derive their supranatural power from chemical products, all of them deleterious to their health. He thinks they are clean, against all evidence. It takes us to tense episodes every Summer, during the Tour de France, except last year when I decided I would leave him alone. But my previous occupation was to assist people in poor health and generally support them, as well as trying to cure them every time I could. I'm mad at all the criminals (team managers, sponsors, journalists, yes even spectators) and especially the medics amongst them (true assassins) who abuse those athletes and lead them to diseases and malfunctions, possibly even to death (malignant diseases, cardio-vascular pathology, tumbles due to extreme tiredness ... ).
On the other hand, he an his partner are keen bikers themselves and they pair their enjoyment of this type of physical exercise to A CHARITY. See here.
Full marks, Jim. Wish your endeavour all the success in the world.
Don't forget to fasten your machine correctly while motocaring,
ride on the correct side of the road, don't extenuate yourself and
THE VERY BEST OF LUCK to you.
PS: for all lovers of good wine, of the Loire Valley, of humor and of nice pictures,
      consult Jim's Loire regularly.