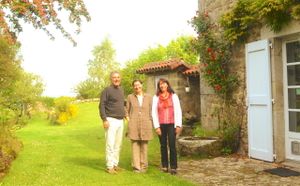 Il mio titolo non e vero.
Non abbiamo
mangiato gelato
ma proprio salame
di cioccolato.
Gostosissimo ! 
Christine (aka La Civale) had booked a B&B somewhere in the South Cantal area, on the border of the Salers beef breeding country. We knew our hosts would be of Italian origin and recently arrived. We decided we would have a go at their food too and booked the family table ... if they would oblige.
My god: the place was lovely - an old mansion coming complete with its lawns and grounds, flowers, heavy stone-tiled roof and ... you just name it - but we ended up spending the entire evening with Camilla and Alessandro, as well as two other guests. 
It all started in perfect taste with a dry enough Prosecco to accompany some delicate antipasto - I think this word doesn't take the plural - small bits and pieces of speck, olives, artichokes ... and an impeccable risotto di porri, courtesy of the carnaroli rice. I forgot to tell you : just like at my place, it is "he" who cooks the dishes.
Scalopina ai funghi (boletus actually) followed suit, with its helping of fresh green beans (with garlick, goes without saying). And we drank excellent Sardinian wine, strong, ripe, full-bodied with adequate tannins.
The next course was an oven-molten Brie with its ... garlick seasoning as well.
We rounded up with the - classical but Oh so delicious - chocolate sausage.
Our hostess, speaking impeccable French, is actually a ... professional translator, we found out later on. Her husband turned out to be an ex-colleague of mine : he used to be a neurologist in large teaching hospitals in the Milan district. He too decided one day he'd had enough.
Moreover, we met the two bambini : young Lupo and his definitely charming and alert sister : Blu! But the couple had never heard of Paulo Conte's "Blue Tangos"*. Would you believe it ? 
 * [Small hint at my title]
If ever this part of the Cantal department crosses your way, don't hesitate to call on the Battistel family : you'll love the place, the atmosphere and the food. But don't tell them you come on my behalf : they are obstinate optimistic people and thought my picture of the present world was ... tainted black. 
One should never engage in "heavy" talk ... or should one ? 
Address: A La Clairière
15220 Marcolés
T° : 09.50.30.08.03
info@alaclairiere.com