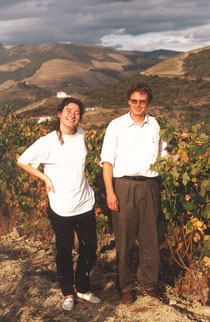 ....  and this young lass as well.
My picture was probably taken at the top of Quinta do Carril, a steep vineyard close to Quinta do Napoles - the present winery had not been built yet - where Batuta comes from, if I'm not mistaken. Listening hard, one might well hear the Rio Tedo's humming and rustling. In my ears, the merry sounds of those moments of friendship will never stop echoing. 
As you know when you've been following my petty columns for a while, Dirk Niepoort "coaches" me on a very special topic: a blend we make together of my wines and with which he wants to age "a fantastic wine which every amateur in the world will want to drink". Clearly, the ambition is set at a high level. This being said, our gentleman has proven many times that he knows how to achieve this. 
I won't go into all the details now, but our final blend is almost ready to be put in ... wood. Yes, wood, at Domaine de la Coume Majou ! 
I have been delivered, by a German lorry - I should have guessed - a large barrel that I thought came all the way from Porto. Wrong !
It is a purebred 10 hl German Fuder, originating from somewhere in the Mosel. It is made of sound European oak and has been in use forty years. Last thing it contained, till recently, is ... Riesling, and not a dry version by the smell of it, even after cleansing.
So now truth is restored: our "Vin de France" will be designed by one of the world's top wine-makers of mixed Dutch-German-Portuguese blood. It will be contained in German wood, be made by a Belgian in exile with grape varieties carrying a Spanish name. 
We, poor wine-makers, suffer from Brussels' complicated rules. But the EU has proven able to prevent war for 70 years in our part of the continent - the founders of this "Ungeheuer".
And it now helps me
to create yet another type
of enjoyable wine.
That is, I hope so !