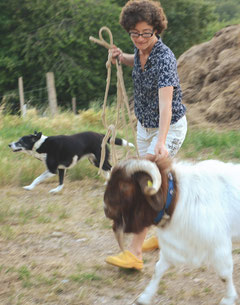 This blog of mine is informative,
but now and again also conveys
personal messages.
This is the case today. I was away on June 21st and I refuse to access my mails and so on while on a trip. The reason for this is partly incompetence - I don't know how to log in from another computer - but also partly the need for a break once every so often.
Our favorite cheese-maker and a dear friend of mine turned forty-something last Saturday. We'd like to wish her a very happy birthday on the occasion, as well as a huge quantity of milk and cream and, above all, lots of hay.
Yes, the specimen we feature on the picture isn't likely to directly contribute to this aim, but he might be decisive in the years to come. As of old Selkie, she's still running around at the grand age of 11 or so.
See you soon,
with love,
Luc & Christine
PS: it might not be of great relevance, but I'm itching all over after a short nap on
      the terrace in La Franqui, courtesy of myriads of minutes mosquitoes.