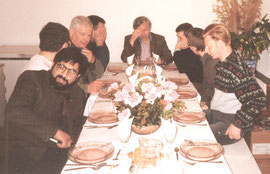 You won't find
Dirk van der Niepoort
on the picture !
He's momentarily gone to the wine-cabinet to collect the bottles this merry lot is going to be served. And as of me, I'm standing behind the lens, having just pressed the camera trigger. 
On the foreground, bearded, you recognize a "Zhuber" who used to be Niepoort's agent in Scotland, based in Leith if my memory doesn't fail me. The picture was taken at the newly renovated Quinta do Passadouro's outbuildings, in the mid-nineties. Oddly enough, the tenant family who lived there prefered a tiled floor and very neat PVC door frame, stainless steel sink and so on, above the traditional, country-like style which prevailed on the premises.
Sadly, since this picture was taken, Jan de Zwart (far end) unexpectedly left us after a devastating intracranial bleeding. He was the manager of Bleuzé wine merchant and active importer of Niepoort's in Belgium.
Another one who's not there anymore was third on the left, with grey hair, Dieter Bohrman, the renovator of this Quinta under Dirk's guidance and expertise. Their relationship had its ups and downs but I was fortunate enough to witness the golden period, as a frequently invited guest. I keep the best memories of that experience and learned a lot on those occasions. 
So it is that Dirk selected a few of my very own wines to "invent" a blend during his last visit to Coume Majou, the date being December 7th 2013. I will therefore refer to this wine as to the "7th of December blend", as long as we won't have coined a final name for it. The actual physical blending of the completed version came into being the day before yesterday, a mixture of grenache and carignan, mostly, and of course a secret part to it as well, the Master's touch. It consists of 5 different wines, all of them impeccable - if I may most cockily say so - on their own but with a special smoothness and harmony once put together. Dirk told me :" You are going to gain not only a very good wine, but essentially an outstanding cuvée which every wine-enthusiast in the world will love to drink". I take his word for it.
Now, the thing will be aged for one year - we think - in a wooden barrel that was shipped to me from the German Mosel region. It has contained riesling so far, is 60 years old (or around), with a capacity of 10 hl. Some goods were standing in the way but it will be lowered to its definitive place on the ground soon (250 kg of wood while empty) thanks to a pulley system which I designed. If it doesn't leak upon a prior fill with water - after some 1.000 km on a lorry and a difference in climate, you never know - I will endeavour to entrust it with our precious mixture. To be frank, I have no hands-on experience with wood whatsoever, and the telephone may ring a few times at Niepoort's. 
We will keep you up-to-date and advance booking will be possible.
I promise Majou66.com won't be anything like 1855.com !