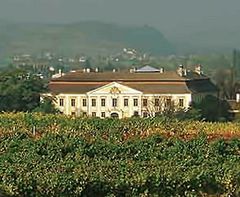 God works in
very mysterious ways ...
especially for me.
Just one month ago, I met a very welcoming man in his late sixties, I presume, during the yearly public tasting of my importer in Ostend, Werco Wines: a Peter Schuhberger if my memory doesn't fail me.
He was present on behalf of Schloss Gobelsburg, being the father of the landlady of the estate, so he told me. I first tasted the wines - outstanding in every respect, both Grüner Veltliner and Riesling. Then we chatted a while, and I've been ... wicked. He wondered how come I'm a bit knowledgeable about Austrian wines, let alone Kamptal. This feature is not very prevalent in "French" winemakers. Moreover, my - albeit broken, I admit - German makes me even more unusual. I couldn't help but tell him of my origins, my liking of his country and my friendly relationship with one of Austria's most renowned public relations specialists in wine circles, Dorli Mühr of Wine & Partner's fame.
At that time, he got excited and, showing me the winery buildings, he explained: "But look, here she got married with Dirk Niepoort, the boss of the illustrious port shipper". I had to reveal the truth to him: I was present at the event, one among the only three Belgians on that occasion (together with Mr and Mrs Van Hove). Good fun and superb coincidence.
Then we went to mind our respective business, i.e.serving the incoming visitors which started arriving. 
A bit later on that day, I had a chat with his - Austrian as well - neighbouring exhibitor. He told me Herr Schuhberger, a world traveller it seems, had also been an IBM-employee for decades in Austria. Unbelievable, as so it happens that my very dear Viennese friend, Susanne, has occupied high functions with that company for ages. So, next morning, I hinted at this topic.You won't believe me, they had been working in the same division, almost in the same team, for several years! 
I know I don't belong to your flock, Good God,
but this time you just bluffed me!