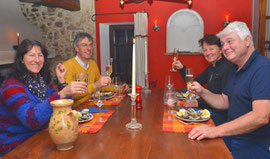 We had invited
the Invisible Man
to take the pictures.
And right we were
because he did a good job.
Some months ago, we witnessed their first moves towards making a move to the "Biterrois" possible. Yesterday, as very first invited guests, we had the honour of being taken to the sub-top of the hill, on the other side of the village when you approach it from the cave coop. On our way, we also met yet another of those less-than-delicate BMW-drivers. But it did'nt spoil the pleasure.
Let me describe the premises: you decide to transform three adjacent post-medieval houses into just one buiding, halfway destroying one in the process and blending the styles into a very rural and cosy cottage of a kind. The entrance is located at the middle level, or on the opposite side if you so prefer. The choice is all yours, there are doors in a plenty. It gives access to a large dining-cum-living room, the elegant open fire separating both without any obstruction to the view.The kitchen is "en suite". 
The bedrooms are scattered troughout the building, on various levels, and in various orientations. You surely need a detailed road-book and a precise description of the location to find your way in the first few days. All this is on purpose: there are at least three wine-cellars and the "masters" don't want you to find out at once. Beverage-safety first! 
The garden, three-storeyed as well, unfolds towards a cute swimming-pool with a view opening on the "plaine de l'Hérault" with the city of Agde as far away horizon. All that under the pale moonlight in this rather chilly first part of the night: we made our appearance around 6.30 pm.
Our guests, who actually took possession the day after Christmas, first sorted out the basic equipment and then went through the pains of a thorough "servicing" of the place. Upon our arrival, everything was already tidy and orderly, the first pieces of furniture starting to come in. Pèzenas and its "brocante", second-hand and "antique" is just a stone's throw away.
Even the French telecom people had eventually got their job done ... after several preliminary unsuccessful attempts. C'est le sud ! 
So, all in all, we had a few drinks - without undue excess - some food and a very warm chat with our friends. After that - pretty early did we think - Christine sat behind the wheel and we set off direction home ... It was well after one o' clock when we finally hit the sack!
Thank you for this excellent evening and
many many instants of happiness there in the months to come,
both for you and your family.