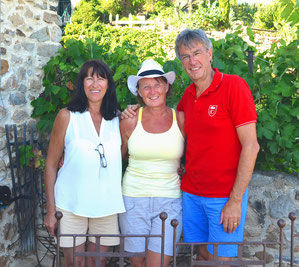 For the first time
in ages, probably
ever since I arrived
in the south,
we've been able to take a week-end off
to our own, 
in order to chill out
a bit.
If Frankie needed to go to Hollywood, we preferred Herman and Anna's place in Péret. Thank you my friends.

The event was a total success. We met at lovely Pézenas' Saturday market - more about that later - and then made it to their neighbouring commune in the beginning of the afternoon. And lunchtime it was, with quaffable local rosé wine, accompanied with water from the well ("Non Contrôlée" says a sign). 
I had a wee nap and we then went for a hike direction Le Trescol.
This pleasant pass above the village offers a good view to the
"Pic de Vissou", a hill top (480 m above sea level) in the distance, and to the Mont Saint Loup above Agde in the direction of the Mediterranean. The nature is beautiful over there, albeit quite dry this period of the year. We walk along hundreds of olive trees (growing wild), micocouliers (hackberry trees); green and kermès oaks, all interspersed with the passage tracks of as many wild boars, scaringly numerous, in spite of the "battues adlministratives" (official obligatory hunting beats) which are regularly held to keep their number in check.
On the other hand, hardly any bird is seen: no "martinet" (similar to a large breed of swallow, which they are not*), no kite, no buzzard and no sea birds coming in from the waterside. 
Thereafter, a plundge in the welcoming pool and hop, dinner. The plantxa is expertly handled by our landlord, after such delicacies as oysters straigth from the Etang de Thau and pasta a la vongole have made their way to our digestive tract. Our Christine came complete with a very savoury "Baba au rhum", actually a savarin-biscuit drenched with a generously rum-aromatized syrup, one of her most succesful favorites.
The rest of the evening was spent watching the rising stars: I don't smoke the cigar any longer, and the rosé wine from neighbouring Cabrières had made any cordial totally redundant afterwards. Moreover, our guests belong rather to the "fit" type, like to jog regularly and don't abuse alcohol (to any great extent). 
I think it took me the best part of ... half a second to fall asleep after I had put my head on the pillow. Le sommeil du juste ! 
Sunday saw us lazying around the swimming-pool, generally getting sun-burnt to a preposterous extent, and, as far as I'm concerned, completing my reading of Stevenson's donkey-trip in the Lozère. 
Lunch - again - caught us unexpecting and paté it was, plus ensalata caprese, to top it up with gorgeously ripe melon. 
A second trip to the well had been necessary, with slightly more water coming out of the moutain than the day before. I couldn't help thinking of Papet and Hugolin. 
Meanwhile, the poor professional racers from the TdF  were lapping the Champs Elysées track under a heavy rain. I couldn't care less.
Thank you, Anna and Herman, for this Harbour of Peace,
and for your warm (indeed) hospitality.
We hope to see you back soon.
* a "martinet" is actually called a swift in English, close to the family
  of hummingbirds, and not passerines. They are highly aerial birds,
  ranking among the fastest flyers.